FOR THE KIDS
Child Care - Ages Newborn to 13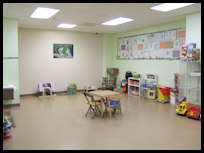 Our Child Care is a safe and supervised environment where your young ones, newborn to 13 years old, can play while you exercise. The Child Care room has a private restroom and attentive engaging staff with clean & sanitized toys for all ages.
Child Care Hours
Monday - Friday 8am - 12pm; 4pm - 8pm
Saturday 8am - 12pm
Single Visits are $3 One Child; $5 Two Children; $6 Three Children
Punch Cards include 20 visits for $40 One Child; $55 Two Children; $65 Three Children

Kids Circuit Club - Ages 7-13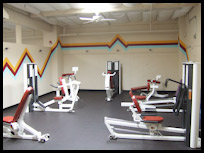 For children ages 7-13, we offer our Kids Circuit Club, a designated room with specialized fitness equipment where kids learn weight machines, cardio exercises, and the importance of incorporating physical activity into their daily lives.  Each session lasts approximately 30 minutes which allows the parent to be on site exercising while a staff member is coaching their child.  In addition, parents are welcome to supervise their child in the Kids Circuit Club outside of the below listed days and times.

Kids Circuit Club is available Monday through Friday, 4pm - 8pm on a drop-in basis.  Cost is included in a Diamond membership or a Single Visit costs $7.